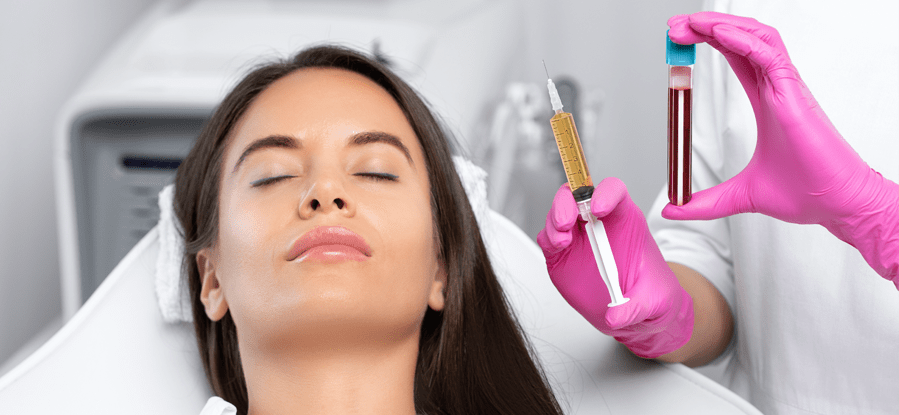 Combining the best SkinPen Microneedling treatment with your PRP = Platelet Rich Plasma.
What is Platelet Rich Plasma?
Your blood is made up of four main components: red blood cells, white blood cells, platelets, and plasma. Platelet Rich Plasma is a platelet concentrated component from your own blood that contains nutrient rich cells and protein growth factors.
Platelets are tiny cells that circulate within our body and bind together when they recognize damaged blood vessels. Platelets are made in your bone marrow along with your white and red blood cells.
Where does the PRP come from?
At Skinfinity we use the most effective method of collection of the Platelet Rich Plasma to ensure the highest concentration of platelets giving you the most beneficial treatment of its kind.  Platelet Rich Plasma is from your own body and is produced when a small amount of blood is drawn and placed into a sterile, disposable container, spun down in a device called a centrifuge to separate the platelets from your blood sample, resulting in a platelet-rich plasma.  It is important to us as providers to provide the best collection method due to the fact that not all PRP is created equal, and if the collection method is not done properly you may not be receiving the most concentrated form of plasma.
How does Microneedling PRP work?
Once we have collected the sample, spun it down and extracted the PRP, we infuse that PRP into your skin while using our SkinPen Microneedling device to drive the nutrient rich cells and protein growth factors down into the top layers of your skin, resulting in a highly accelerated remodeling of the skin tissue, by stimulating collagen and elastin production.
Who would benefit from Microneedling + PRP?
The results achieved from Microneedling + PRP are what we like to refer to as "Microneedling on steroids", meaning you will achieve a quicker result and the potential for incredible results in Fine lines, wrinkles, acne scars, uneven skin tone, scars and stretch marks, enlarged pores and even sun damage.