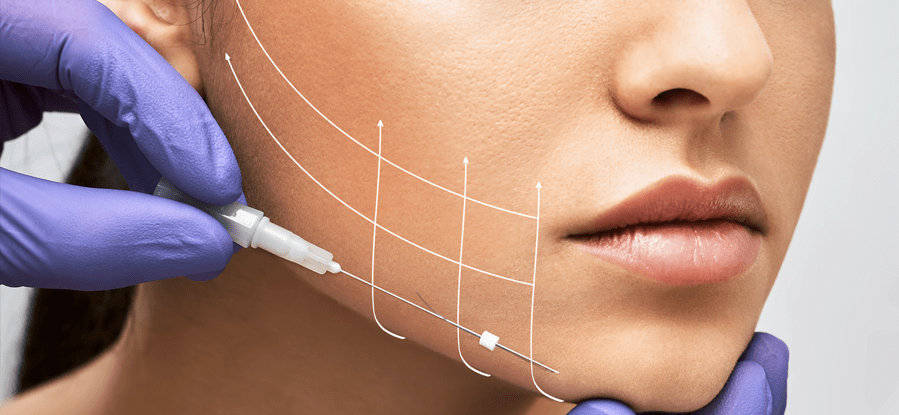 This minimally invasive treatment, also known as a "Lunchtime Lift", offers great benefits for both men and women looking to rejuvenate their skin on a deeper level, without the painful and lengthy downtime of a face lift.
What is Facial Threading and What can I Expect?
A thread lift, sometimes referred to as a "lunchtime lift," uses absorbable, barbed sutures to offer a tighter, more youthful aesthetic appearance to the face and neck.
This minimally invasive procedure works by stimulating the production of collagen in the skin in order to produce healthier, firmer skin. It can also mechanically lift tissues where the barbed sutures are placed.
A thread lift procedure can be beneficial for both men and women who are wanting to reduce the appearance of wrinkles and early jowls on the face. This procedure can also reduce the appearance of sagging skin, as it gently pulls the skin tighter.
It also offers immediate results without the downtime or scarring that occurs with a surgical facelift procedure. If you desire natural-looking results for firmer skin, then a thread lift may be the right procedure for you. After a consultation with our expert Nurse Practitioner, she will evaluate your anatomy and review your goals to decide if you are a candidate for a thread lift.
What types of benefits and results can be expected from a Facial Threading?
Revitalize early loosening of the facial structures
Tighten Jowls
Lift sagging eyebrows
Correction to premature loosening of the neck skin
Results of a thread lift will be visible almost immediately and will progressively improve within a few weeks. While there usually is little pain involved in this treatment, swelling or bruising can be expected. Most patients are presentable within 3-5 days. However, it may take a few weeks before the final healing is completed.
While a thread lift can be expected to correct certain conditions, you will continue to age naturally. Ongoing sun protection and regular skincare maintenance will help to maintain your results.