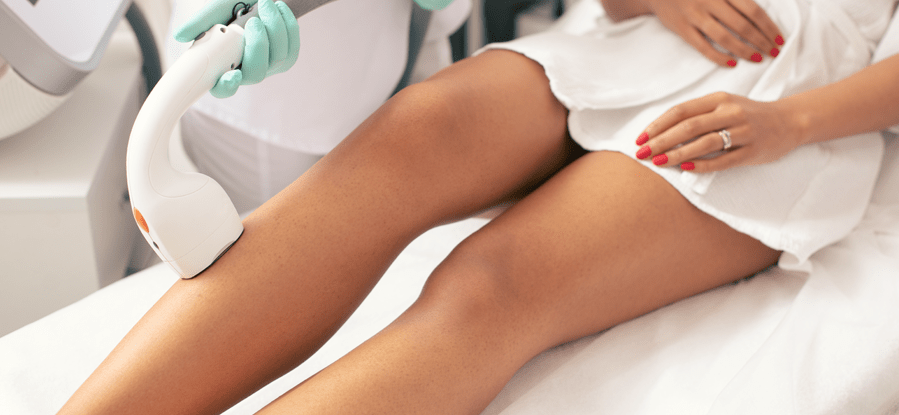 At Skinfinity Medspa, we use the gold standard technology to help to remove unwanted hair from multiple areas of the body on any skin type.
What is Laser Hair Removal?
It is an alternative to the irritating side effects of shaving and waxing commonly experienced among many individuals. At Skinfinity, we can typically treat all skin types. This procedure uses laser light beams to target the hair follicle to reduce hair growth in that area. A series of treatments will be required at 4 – 8-week intervals. Our expert providers will be able to guide your specific treatment plan during a complimentary consultation. Laser hair removal alleviates time, pain and various side effects associated with waxing, shaving, and tweezing!
Who Can Benefit From Laser Hair Removal?
Patients with unwanted hair, irritating ingrown hairs, and those who spend a lot of time and money on waxing or shaving can usually benefit. In years past, laser hair removal systems were only capable of effectively treating those with dark hair, light skin, and no tan, however, the latest technologies in laser hair removal can treat all skin types. Through a consultation with a Skinfinity expert, we can determine if this treatment will benefit you.
How Does Laser Hair Removal Work?
It works by eliminating the production of hair with laser energy. The laser light is absorbed by hair follicles and destroys the pigment. It does this without damaging the skin and surrounding tissue. It normally takes a series of treatments to achieve ideal results. The most common areas for laser hair removal are lip, chin, underarms, bikini area, legs, and back.
What Can Be Expected After Removal?
The skin may feel sensitive and appear red after your session, similar to the feeling of a little too much sun. Most side effects resolve within a few hours to days. After treatment, you are free to resume most daily activities. It is recommended to avoid swimming or hot tubs for one week, as well as acid-based products and Retin-A or retinol products. This laser offers a long-term solution to annoying, unwanted hair with minimal downtime.