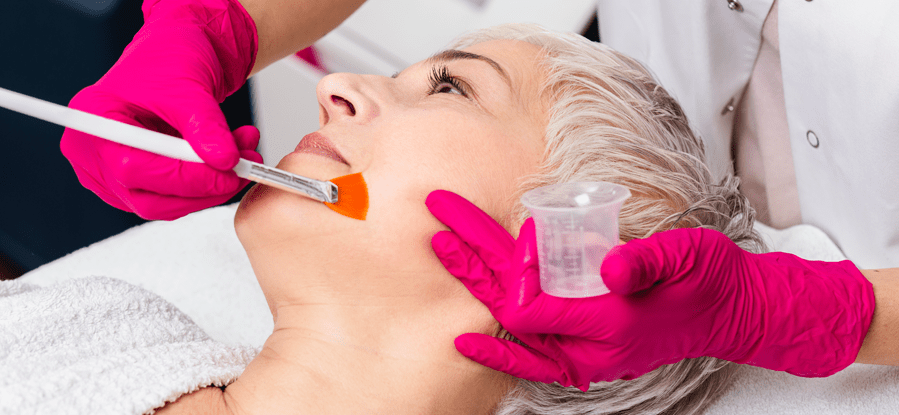 Medical grade peel range in depth and are highly effective in promoting a smoother texture, clearing the skin and restoring youthful skin with a radiant glow. At Skinfinity we have an expansive variety of peels offering a range of peel depths, beneficial for all skin types and concerns.
What Are Medical Grade Chemical Peels?
At Skinfinity, we offer a diverse range of chemical peels. Depending on your skin type, we can tailor these peels from a quick "lunchtime peel" to deeper, more intensive treatments. Sun, acne, and age can affect skin tone, causing unevenness, wrinkles, or scars. Our peels effectively smooth out these imperfections, restoring a youthful and radiant look by removing damaged outer layers to uncover fresh, healthier skin.
Who Should Consider Medical Grade Peels?
Skinfinity's medical-grade peels target various skin issues like acne, scars, melasma, sun damage, and age-related concerns. Many of our clients find these peels beneficial. However, we offer a free consultation to ensure we choose the best peel for your unique skin type and issues.
How Do These Peels Work?
Our peels are safe and involve minimal discomfort. They vary in depth—light, medium, or deep—based on your goals and concerns. While deeper peels give more pronounced results, they do have longer recovery periods. Trust our experienced team to suggest the best peel for you.
Dive into Skinfinity's Chemical Peel Offerings:
PCA Peels
PCA was a pioneer in enhancing the Jessner's peel, combining ingredients like lactic acid and salicylic acid. This innovation made the treatment more effective, safer, and more comfortable. PCA peels, perfect even for sensitive skin, address issues like acne, hyperpigmentation, and aging. They enhance skin cell renewal, reduce wrinkles, dark spots, and acne. Over time, PCA expanded its range to include diverse peels and chemical peel alternatives.
VI Peel
VI Peel stands out with its unique formulas. They tackle sun damage, aging signs, acne scars, and more. Suitable for all skin types, these medium-depth peels are both comfortable and effective, showing results within a week.
Cosmelan Peel
Cosmelan reigns supreme in addressing severe skin discoloration. It works in two main ways: correcting visible spots and preventing their return by controlling pigment production. The treatment involves two steps:
At Skinfinity: Our experts apply an intensive depigmenting mask during a single session.
At home: Continue the treatment using complementary products, based on our guidance.
It's particularly effective for those with persistent pigment issues, melasma, and darker skin tones.