Comprehensive Medspa Services at Skinfinity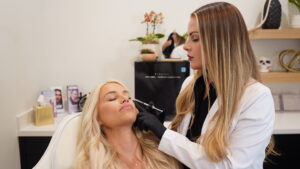 Welcome to Skinfinity Medspa, where we offer a diverse range of state-of-the-art medspa services tailored to rejuvenate, refresh, and revitalize. Dive into our extensive list and find the perfect treatment for your unique needs. Click here to see availability.
Injectables
Lip Filler
Jawline Filler
Chin Filler
Cheek Filler
Sculptra
Radiesse
Lip Flip
Signature Facials
Champagne Facial
Mermaid Facial
Summer Strawberry Rose Facial
Body Contouring & Lifts
Medical Weight Loss & Wellness
Skin Rejuvenation Treatments
Additional Aesthetic Treatments
At Skinfinity Medspa, we pride ourselves on offering unparalleled medspa services that stand out in the realm of beauty and wellness. Our trained professionals bring years of expertise to the table, ensuring each treatment is administered with the utmost precision and care. Every service is curated to align with our philosophy of holistic well-being, ensuring you not only look good but also feel great. With cutting-edge technology at our disposal and a commitment to continuous learning, we stay ahead of industry trends, always delivering innovative and effective treatments. Our reputation in the community is a testament to our dedication. Whether you're seeking a subtle enhancement or a complete transformation, we invite you to experience the difference at Skinfinity. Let us be your trusted partner on this transformative journey towards radiant skin and renewed confidence.