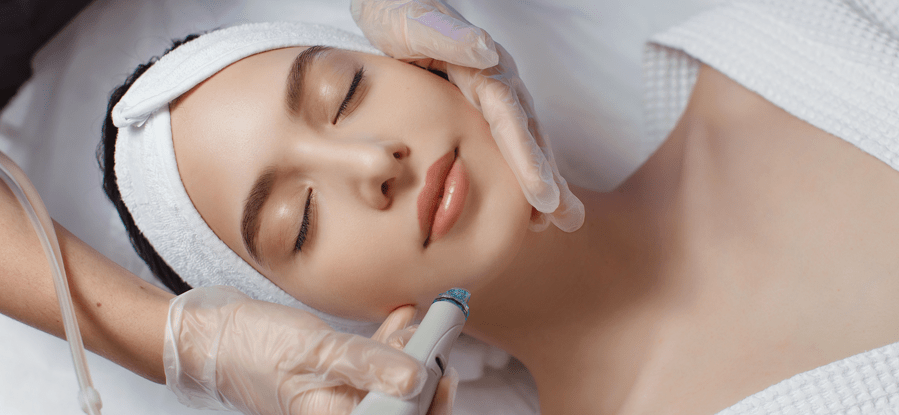 The HydraFacial is a relaxing, painless, in-office treatment that uses patented technology to cleanse, extract, and hydrate your skin for a youthful glow.
Where can I get the best Hyrdarfacial in Gilbert, AZ?
Skinfinity Medspa of course!  Keep reading to find out more info on our Hydrafacial device.
What is a HydraFacial?
The HydraFacial is a nonsurgical, painless, in-office advanced exfoliation treatment that uses patented technology to cleanse, extract, and hydrate your skin for a youthful glow. This treatment is offered as a Signature, Deluxe or Platinum treatment, with optional lip and eye boosters as well. This treatment will take between 40-70 minutes to complete, depending on which level of treatment you choose.
Who Can Benefit From a HydraFacial?
Almost anyone can benefit from the perks this treatment offers, weather you are trying to achieve a deep exfoliation, if you're looking for a glow up for an event or to brighten dulled skin, soften fine lines, clear congestion or just want to simply relax.
A HydraFacial can address several skincare needs, including:
Fine lines and wrinkles
Uneven skin texture
Elasticity and firmness
Tone and vibrancy
Brown spots
Oily and congested skin
Large pores
How Does a HydraFacial Work?
The HydraFacial treatment is a three-step process, which includes:
STEP 1: CLEANSE & PEEL
Gentle exfoliation and resurfacing help to uncover a new, healthy layer of skin.
STEP 2: EXTRACT & HYDRATE
Suction debris from pores and nourish the skin with an infusion process of intensive moisturizers.
STEP 3: FUSE & PROTECT
Antioxidants and peptides are infused into the skin to maximize youthful results.
During the treatment, a special HydraFacial wand will be swept across your skin, simultaneously cleansing, vacuuming up old skin cells and debris, and infusing signature products into the skin.
What Can Be Expected After a HydraFacial?
With HydraFacial treatments there is no downtime, so you can get back to your everyday activities right away. You will be able to see your glowing results immediately following your treatment, and with ongoing treatments, you will notice intensely improved hydration, reduced congestion and black heads, reduced fine lines and wrinkles and minimized pigmentation/discoloration. Our skin experts at Skinfinity will customize your treatment with the booster serums appropriate for your skin type and concerns.
Come in and check out the best Hydrafacial in Gilbert, AZ!