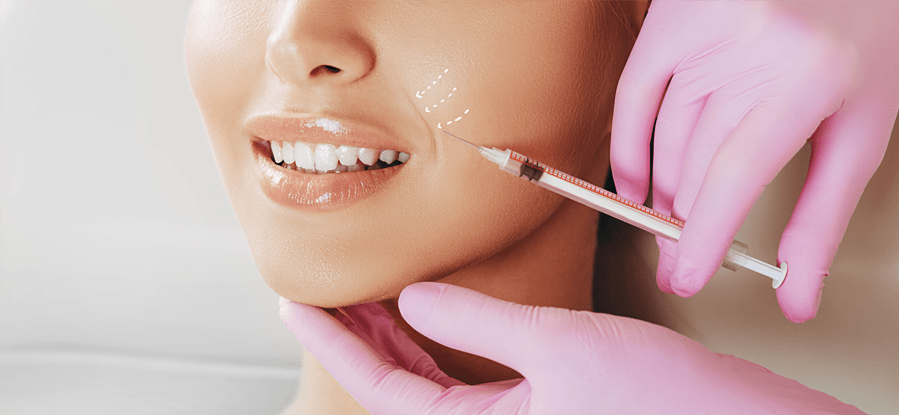 Dermal Fillers are used to enhance and replenish the skin and facial features, to add or replace lost volume in an aesthetically pleasing manner.
What are Dermal Fillers and What can I Expect?
Dermal fillers help to diminish facial lines and restore volume and fullness in the face.
As we age, our faces naturally lose subcutaneous fat. The facial muscles are then working closer to the skin surface, so smile lines and crow's feet become more apparent.
As facial tissues thin out, lines become etched around the nose and mouth and cheeks look a little hollow. Dermal fillers can replace lost volume to help smooth wrinkles, plump the lips, and restore a more youthful appearance.
Dermal fillers are gel-like substances that are injected beneath the skin to restore lost volume, smooth lines and soften creases, or enhance facial contours. More than 1 million men and women annually choose this popular facial rejuvenation treatment, which can be a cost-effective way to look younger without surgery or downtime.
At Skinfinity Medspa we have carefully selected the products we work with and have chosen a variety of the most high quality fillers made up a Hyaluronic Acid and other beneficial ingredients to provide the absolute best results for of valued patients.
Our expert injectors are trained in the highest levels and engage in continued education year after year to stay up to date with the latest techniques and products available on the market. After a complimentary consultation with our injector, our injector will chose the best products for you and will create a customized treatment plan based on your needs and goals, to provide you with the highest level of service and exceptional results.
The facial skin also start to stretch a bit, adding to this loss of facial volume. Other factors that affect the facial skin include sun exposure, heredity and lifestyle.
Results can be expected to last 6 months to 2 years or longer, depending on the product & treatment.
What dermal fillers can do:
Plump and define lips
Enhance shallow contours
Soften facial creases and wrinkles
Improve the appearance of recessed scars
Reconstruct contour deformities in the face
Decrease or remove the shadow of the lower eye area (tear troughs)
Improve symmetry among facial features
Improve sunken in temples
Contour the chin and smooth dimpling or creases
Contour the jawline
Additionally, Dermal fillers can successfully be combined with treatments such as lasers, threading, and other aesthetic services to achieve optimal, long lasting results, and provide continued collagen stimulation, for excelled anti-aging benefits. At Skinfinity we always strive to make a comprehensive and customized treatment plan for each client, which will be laid out into an optional treatment package, beneficial to your individual needs.