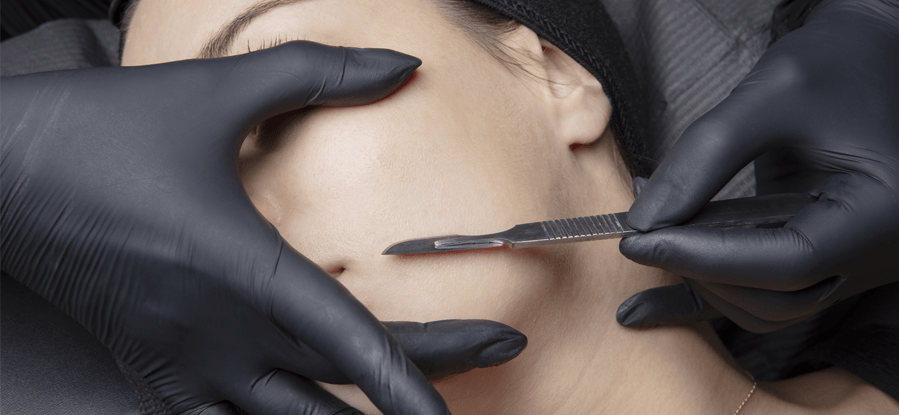 Dermaplaning is a safe, non-invasive treatment to exfoliate and smooth the skin with a medical grade stainless steel blade, removing dead skin cells and vellus hair from the surface of the skin, also known as "peach fuzz".
What is Dermaplaning?
Dermaplaning is a manual exfoliation, often times combined with other in office treatments for maximum benefits from the secondary treatment. Dermaplaning is a very popular treatment, offering benefits to almost any skin type, leaving the skin soft, smooth and the perfect canvas for a beautiful and even makeup application.
At Skinfinity our custom dermaplane treatments include a mask or enzyme treatment selected by your Skinfinity expert provider, a full face massage, and appropriate medical grade post care products. Dermaplaning is also an optional add on booster to certain treatments offered in office, such as hydrafacials, chemical peels or microneedling.
Who can benefit from a Dermaplaning?
Almost anyone is a candidate for a dermaplane treatment and can benefit from the perks of the service. Makeup artists love to recommend this service to their clients prior to a big event to ensure the client has the perfect "canvas" for a perfect makeup application. By dermaplaning the skin, you will remove dry flaky skin and get rid of the top layer of skin ready to be shed, as well as all the "peach fuzz", creating a healthy glow and smooth even complexion. In addition, dermaplaning will allow your in office treatments and at home products to penetrate deeper into the skin, by removing the top "barrier" and give your skin the full benefits of the products applied.