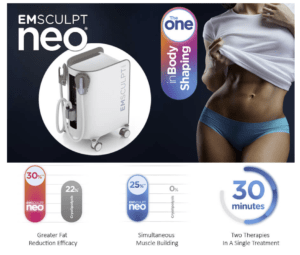 What is EmSculpt NEO?
EmSculpt NEO is the latest in non-invasive body contouring services. This cutting-edge device is designed to sculpt the body by strengthening the underlying muscles and eliminating excess fat with both radiofrequency and high intensity electromagnetic energies. The treatment will stimulate muscle contractions that will push your body beyond what it can achieve during a typical workout session at the gym..
Who Can Benefit From EmSculpt NEO?
Unfortunately, achieving your beauty goals isn't so easy. Diet and exercise alone are not always enough to get the slimmer and firmer body you want. For many people, stubborn fat may reside in different areas of the body, despite all the hard work they put in.
In cases such as these, innovative cosmetic treatments like EmSculpt NEO have helped many people achieve their ideal bodies. At Skinfinity Medspa, we're dedicated to helping our patients look and feel good in their bodies with the latest cosmetic procedures.
EmSculpt NEO is a useful solution for both men and women who desire a well-toned body, but have found it difficult to achieve through traditional workout routines and diet plans. Ideal candidates for the treatment are men and women who are within their ideal weight range and are in good shape. It can be used as a complement to living a healthy lifestyle and help produce stunning results
How does EmSculpt NEO work?
During the procedure, we will utilize an applicator to deliver the radiofrequency and electromagnetic energies to the treatment area. Radiofrequency energy will be used to raise the temperature of the muscles to replicate a warm-up and prepare the muscles for contraction.
After the appropriate temperature is reached, electromagnetic energy will be applied to cause the underlying muscles to contract. The device produces thousands of contractions that help to build the muscles and create a well-toned appearance.
Combining radiofrequency (RF) and high intensity focused electromagnetic energy (HIFEM+), EMSCULPT NEO melts fat and builds muscle. The device delivers RF energy to heat underlying fat cells while at the same time stimulating rapid muscle contractions with the focused electromagnetic energy. The treated fat cells gradually die and are flushed naturally from the body.
Which Areas Can I Treat with EMSCULPT NEO?
You can expect exceptional results with EMSCULT NEO. We use EMSCULPT NEO to successfully sculpt and enhance muscle tone in the following areas:
Abdomen
Buttocks
Upper arms (biceps and triceps)
Inner and outer thighs
Calves