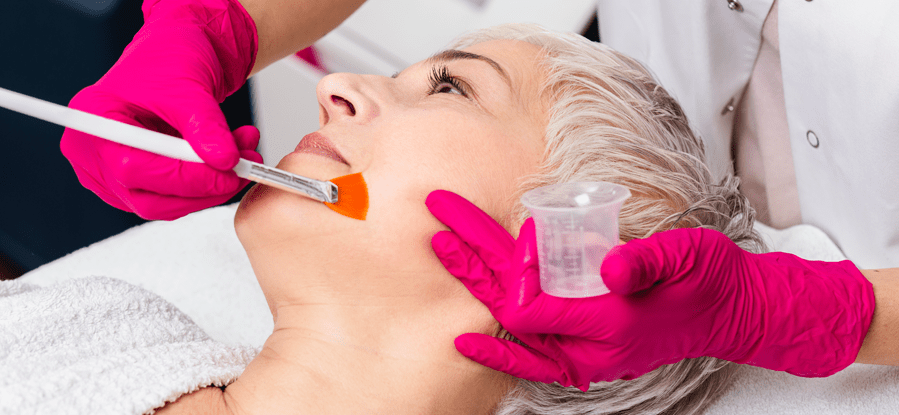 Medical grade peel range in depth and are highly effective in promoting a smoother texture, clearing the skin and restoring youthful skin with a radiant glow. At Skinfinity we have an expansive variety of peels offering a range of peel depths, beneficial for all skin types and concerns.
What Are Medical Grade Peels?
Skinfinity offers a wide variety of peels that can be customized to your specific skin type, with downtime ranging from a "lunch time peel" to deeper, more aggressive peels. Sun exposure, acne, and aging can leave your skin tone uneven, wrinkled, and/or scarred. Peels are highly effective in promoting a smoother texture while restoring youthful skin with a radiant glow. Damaged outer layers are sloughed off, revealing new, healthy layers beneath.
Who Can Benefit From Medical Grade Peels?
The medical-grade peels offered at Skinfinity are designed to address different skin concerns such as acne, scarring, melasma, sun damage, discoloration, and aging skin. Most patients can benefit from medical-grade peels. Skinfinity will always provide a complimentary consultation to determine which peel is best suited for your skin type and concerns.
How Do Medical Grade Peels Work?
Peels are very safe, cause minimal discomfort, and can be done at different depths (light, medium or deep) — depending on your concerns and desired results. Deeper peels produce more dramatic results, but also involve longer recovery times. Our experienced team of experts can recommend a peel treatment plan that will provide you with optimal results.
Skinfinity peels include:
PCA Peels
With formulations for all skin types – even those with sensitive skin – PCA peels improve skin concerns: acne, hyperpigmentation and aging. These challenging skin concerns are improved with our perfected formulas by increasing the skin's cell turnover rate, bringing new skin cells to the surface, reducing signs of fine lines, wrinkles, dark spots and clearing breakouts.
PCA was the first company to develop and market the modified and enhanced Jessner's peel, a solution that combines lactic acid, salicylic acid, kojic acid, citric acid and resorcinol. This revolutionary reformulation provides safer application, a more comfortable treatment and increased skin benefits. PCA's line of peels has since expanded to include TCA and lactic blended peels, retinoid peels and boosters, and chemical peel alternatives.
VI Peel
The VI Peel offers a variety of uniquely formulated treatments designed to uplift and correct Sun Damage, Melasma, UV-Induced Pigmentation, Post-Inflammatory Hyperpigmentation (PIH), Excessive Oil, Acne with Hyperpigmentation, Acne Scarring, Adult Acne, Early Signs of Aging, Rough Texture, Aging Skin, Wrinkles, Fine Lines, Loss of Elasticity, Body Acne, Stretch Marks, Sagging Skin, Pigmentation and Fine Lines on the neck and Decollete.
These peels are considered a medium-depth peel and are safe for all skin types. These treatments are comfortable and can provide results in as little as 1 week.
Cosmelan Peel
Cosmelan, is the world's leading professional depigmentation method for treating the most severe and stubborn skin spots.
Excellent results in the short and long term thanks to its unique dual action mechanism: corrective and regulatory. On the one hand, it eliminates the visible spot, but also acts on the source of the problem, regulating the overproduction of pigment to prevent its reappearance.
This peel consists of a 2 step process.
In the Medspa: The patient will come in for a single session in which one of our Skinfinity experts will apply the mask with an intensive depigmenting action.
At home: This is where your treatment continues. Under the recommendations of your provider, the patient must adhere to a regimen for the application of the cosmeceuticals complementary to the method, which will vary according to the phase and progress of the treatment.
The depigmentation process continues and we work on the source of the problem for a lasting result.
This treatment is designed for all skin types, especially those with stubborn pigment, melasma, olive complexions and darker skin types who struggle to find results with other products and treatments.