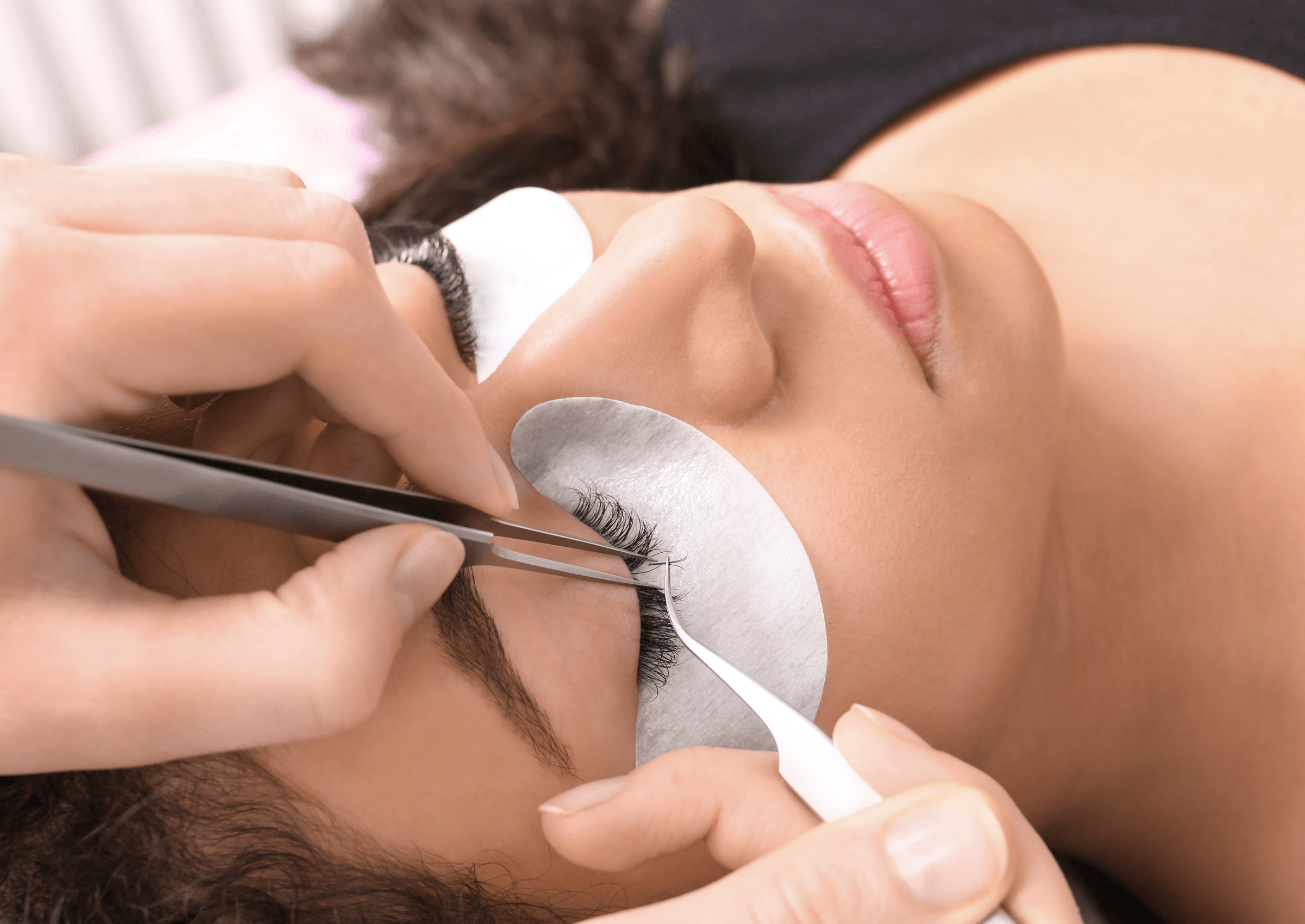 Lash Extension Services. We Have Them. You Need Them.
Are you always on the hunt for a better smudge-proof mascara or wish you had thicker eyelashes? Whether you want to cut down your daily makeup routine or invest in a full-glam look, lash extensions are an easy glow-up option. 
What are lash extensions? 
Lash extensions are a semi-permanent eyelash enhancing service that increases the lashes' curl, length, and fullness. The service is customizable to fit your desired look. First, let's discuss how the lashes are applied and different approaches for different outcomes.
How are lash extensions applied?
Lash extensions vary in length, volume, and curl but are always applied to a single natural lash using an eye-safe adhesive. Before your appointment, your Skinfinity Lash Artist will discuss your goals and examine your lash health before offering suggestions. 
Next, your Lash Artist will ask you to close your eyes while they apply tape or silicone strips to the surrounding eye area to protect your lower lash line.
Finally, you will sit back and relax for the remainder of your appointment. It is common to snooze for the rest of your appointment time. You'll be greeted by your perfect lash look when you wake up. Appointment times vary but plan on anywhere from one and a half to two hours.
What lash service should I book?
Skinfinity offers three different lash looks:
Classic: 
Classic lashes are single lash extensions applied to individual lashes. A classic look is natural and causes others to think, 'maybe she's born with it.'
Hybrid: 
Hybrid lashes are for those who want a little more than a classic set. Still quite natural, these lash extensions are applied using a hybrid method by mixing individual lashes and fans. 
Hold up. What are fans? Fans are a cluster of multiple faux lashes applied to an individual lash. Fans increase the volume and thickness of the overall look. Skinfinity Lash Artists are experts in lash health, and they will walk you through the correct length, volume, and curl for your desired outcome. 
Volume: 
It's in the name. Volume lashes add volume to your look by applying fans to your lashes. This is perfect if you want more lashes and not necessarily more length.
Mega Volume: 
We are going all in with Mega Volume. Think length, curl, and volume to the highest degree. This service is for those who want a full-glam look.
Fill:
If you have lashes on already, you will book a fill appointment. At your fill appointment, your Lash Artist will look at your lash health and ask you questions about your experience. Then, with your feedback in mind, your Lash Artist will discuss options to create a sustainable and aesthetically pleasing look for your lashes.
Who is a good candidate for lash extensions?
Most people are good candidates for lash extensions if their lashes are strong and healthy! However, those with sparse, thin, or weak lashes are not good candidates for this service. Anyone undergoing medical treatment that results in hair loss is not a good candidate for lash extensions, as well as those with eye infections and diseases that could be exacerbated by the lash extensions.
Are lash extensions only for special occasions?
While it is common for brides, graduates, and those celebrating other life events to upgrade their lash game, lash extensions are an excellent option for those who like the look of mascara but hate wearing it. They are also perfect for athletes and gymgoers who want to feel a little 'done up' without makeup. 
And, get this. Lashes are for everyone. We mean everyone. 
Skinfinity Lash Artists offer everything from full-glam to light and natural and everything in between. 
What is lash extension aftercare like?
Lash extensions are incredibly low maintenance. For 72 hours after your appointment, avoid getting the adhesive wet. Carefully wash your face with a cloth, avoiding the eye area until the adhesive fully dries. That means keeping your face dry in the shower (wash your hair before your appointment), no jacuzzis or saunas, and avoiding excessive sweating. We are looking at you, treadmill. 
We will supply you with a spooly brush to use morning and night. Your lash artist will also discuss cleansing methods to keep your lashes beautiful and healthy until we see you at your next appointment!
Lash Services at Skinfinity:
At Skinfinity, we want you to relax and know you are in the best hands. We carry top-of-the-line products and work with the best lash talent in the area. If you have any questions or concerns, please feel free to give us a call at 480-514-9295.
Ready to get started? Our lash artists are eager to hear from you! Book now on our website.