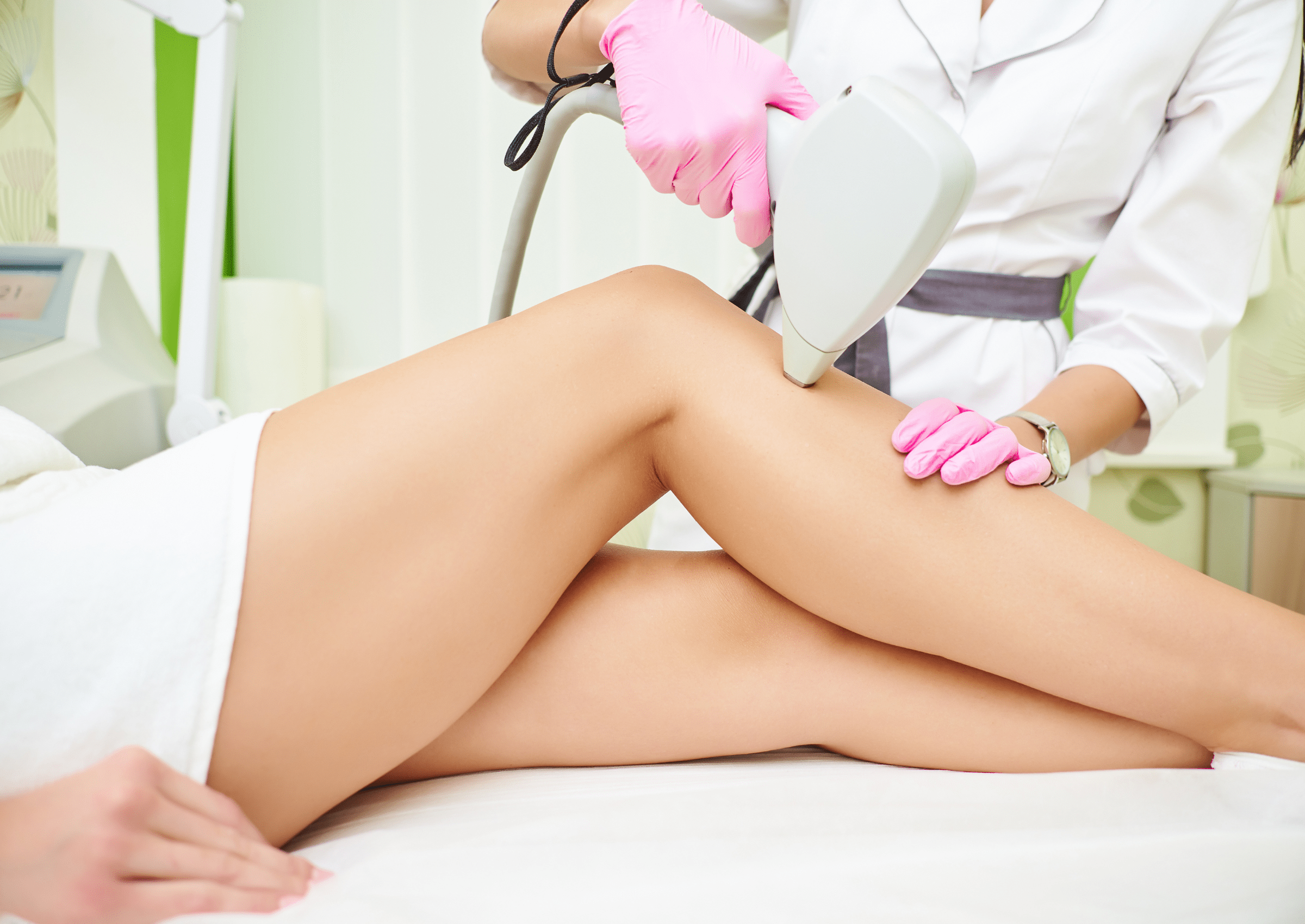 So, you've been shaving and waxing since you were a teen. You might have tried and failed at a DIY sugar wax or yanked your leg hair out with an epilator. It's time to level up and eliminate your body hair altogether (if that's your thing). Let's discuss everything you need to know about laser hair removal. 
What are the benefits of Laser Hair Removal?
LHR saves you money over time
The first benefit is obvious, no hair. No body hair means you can save money on monthly waxes. According to Shave Aware, the average person gets 30 uses out of a single razor blade, which averages about a blade per month. When you add up the cost of hair elimination techniques annually, you can easily deduce that laser hair removal is more cost-effective over time. 
Smaller Hair Follicles
You might have noticed that even with a fresh shave, you have hair follicles presenting like little black dots all over your legs. First, seeing your hair follicles after a shave is completely normal. Second, you don't have to. Laser hair removal significantly reduces the size and texture of hair. While the hair follicles are not permanently damaged to avoid skin adhesions, finer and thinner hair will result in smaller and less noticeable hair follicles. 
LHR is customizable to achieve the results you want
Laser hair removal has significantly changed in recent years and with new technology, can now achieve permanent results that involve touch-ups only once or twice a year, after you achieve your desired look! The impermanence might appeal to some who don't want to remove their hair altogether, and the maintenance is so little that it still appeals to those who want a completely bare look. LHR treatment is also precise. For example, it is possible to only treat the bikini line and leave the Brazilian area alone.
What does the LHR process look like?
Consultation and Treatment Plan
We are happy to set up a consultation to go over your treatment plan and to ensure you are a great candidate for this procedure, prior to your first treatment! It is recommended to purchase a course of treatments to achieve optimal results. It typically takes 6-8 sessions of LHR to achieve the desired results and anywhere from 2-3 weeks post-treatment to notice changes in hair texture and growth rate.
What to Tell Your Laser Technician Before Treatment
Leading up to your appointment, it is important to wear sun protection and avoid tanning. If you have been in the sun recently, you must disclose this to your laser tech prior to treatment to avoid burning and blistering. If you alter your medications or start an antibiotic, tell your laser tech before treatment. Some medications alter UV sensitivity and require a waiting period before treatment can be resumed.
Skin Preparation Before Your Appointment
24 hours before your appointment, shave the area you wish to be treated. Remove all the hair as best as possible, but avoid using tweezers or waxing altogether as this will negatively affect your treatment. Keep the area clean and skip deodorant, lotion, perfume, and other topical treatments before and up to 24 hours after treatment. 
Post-Treatment Care
After your LHR treatment, avoid wearing tight clothing in the treatment area to allow the skin to cool down. If you are treating your legs, opt to wear loose-fitting pants over leggings to allow the area to breathe. If you are treating your underarms, you can apply deodorant later in the day, or your laser tech might offer you a spray deodorant post-treatment. To further cool and soothe the skin, aloe vera is a great option and can be applied right away. Stay out of the sun for at least two weeks to avoid damaging the skin. 
You might get a slight histamine reaction after treatment that looks like razor burn. This is a good thing and subsides after 24-48 hours. If you feel pain or burning, let your laser technician know immediately. Keep your laser tech up to date with your progress or any concerns. The strength of the laser can be adapted to fit your needs.
At Skinfinity, our certified laser technicians use a diode laser for a painless and effective hair removal treatment. Our advanced lasers are the best on the market for targeting the melanin in the hair follicle and reducing hair growth. Our laser techs are here to customize treatment plans for your needs and deliver the best long-term results. 
Have questions about the benefits of laser hair removal? Book a consultation with us online here or give us a call at 480-514-9295.