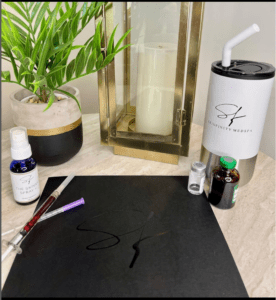 GET YOURSELF BACK WITH SKINFINITY'S p-ONE + MEDICAL GRADE WEIGHT LOSS PROGRAM.Skinfinity's p-ONE plus program is a medical grade weight loss program that utilizes a glucagon like peptide- that targets areas of the brain that regulate appetite and food intake. This peptide is shown to be effective in adults for weight loss and approved for long term use by the FDA.
Semaglutide is 89% bioavailable to the human body, meaning the absorption rate is highly effective for indicated uses.
With the patient experience always being at top priority here at Skinfinity, your program will be monitored by our Nurse Practitioner on a weekly basis during your follow up appts.
During the appointment you will have a chance to track your progress/success, discuss any questions that may arise, and have your medication
administered, along with your weekly Skinny Shot Boost.
The p-ONE: plus program includes initial blood work, weekly appointments to administer medication, weekly Skinny Shots: comprised of a blend of vitamins and amino acids to deliver an energy boost, better sleep, lifted brain fog, an uplifted mood and more.
With the program you will also be given a monthly supply of our Skinny Spray + for at home use to elongate the benefits of the weekly Skinny Shots.
Bring back your health, sleep, nutrition & energy
Bring back you.