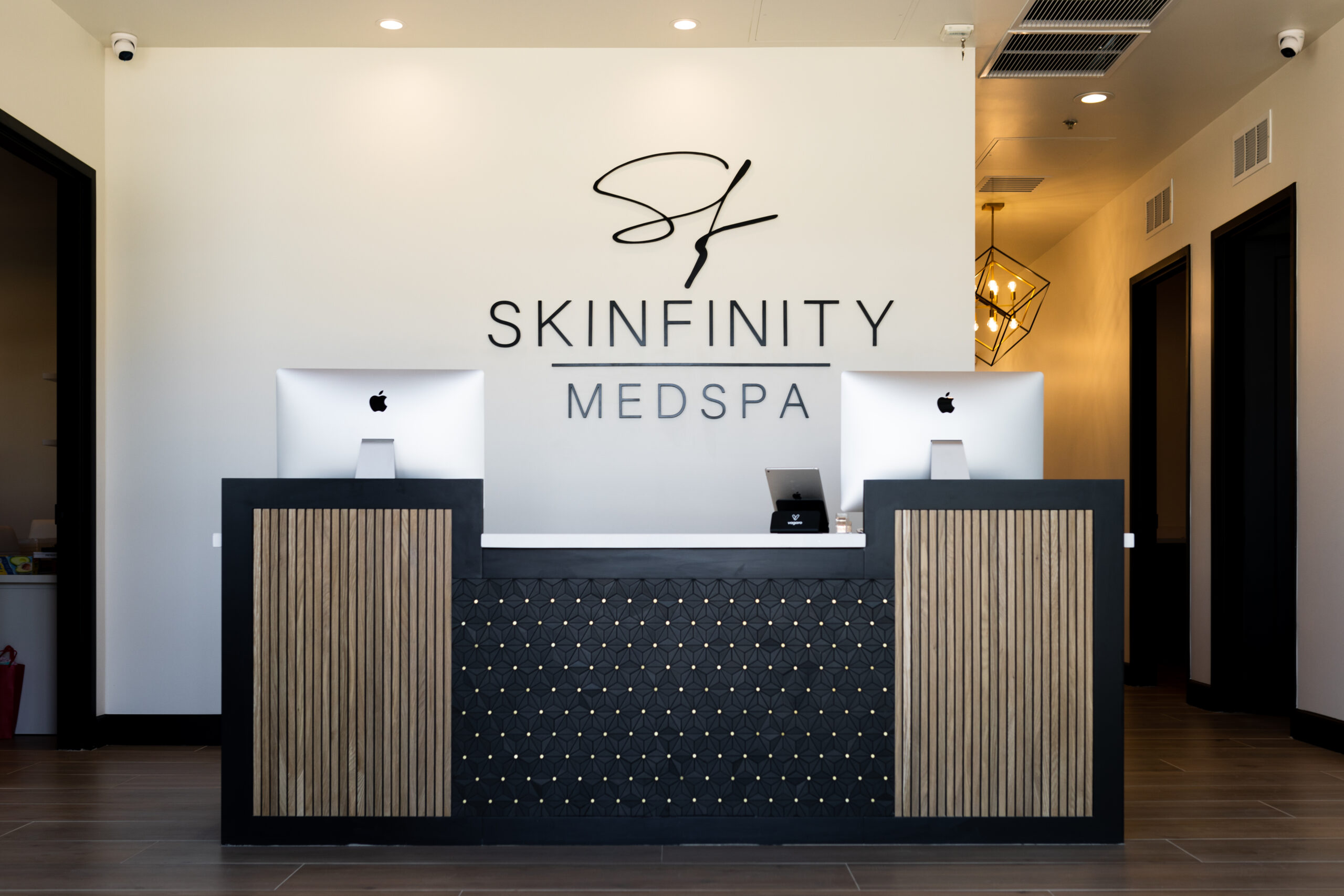 Welcome to Skinfinity Medspa – a Medspa that has been a dream in the making for over ten years! It's been written in the stars, constructed by the best in the business, staffed by incredibly talented professionals, and equipped with the latest technology and brilliance all for you. Ready to get familiar?
Skinfinity was born through a heap of research, training, practice and excitement from our owner who has literally trained with some of the best physicians and mentors in the United States and to be frank, we know what works and what doesn't. We know what clients are looking for and what they aren't. We know what procedures or treatments are worth the time and money and which ones aren't. That's not tooting our own horn (well maybe a little) but we're so proud of our combined knowledge that we can deliver to you to ensure a safe, fun and effective experience! Speaking of experience, we can't wait for you to see our new facility (opening May 2, 2022); we've worked hard to make it feel comfy and luxurious with certain elements we adore, like heated tables and aroma therapies. Ahhh, we can almost feel the relaxation already.
Here's the really cool part, you'll never have to shop around at different locations for different treatments like injections at once place, a laser at another place, a spray tan down the road and lashes in the next town over. It will all be right here under one big beautiful roof with a staff of professionals who make you feel like family (did we mention we have heated tables?). We truly want you to feel like the absolute best version of yourself and love what you see in the mirror each and every day – deal? Deal.
Ok let's talk about our superstars, aka our professional medical team here at Skinfinity. Not only do they have years of experience under their belt, but we're absolutely certain they will fit every single need you could ever want from a med spa (and maybe even more). Our Medical Director is a Nurse Practitioner and our injector extraordinaire, she's the bees knees and is real, honest and very open about anything you want more info on. Threading and injections will be her jam and you'll love your results with her, guaranteed – she might even throw in a joke or two. We'll dive into our full staff in later blogs so be sure to keep your eyes peeled for all the juicy details and specialties.
So, you know the scoop on our brilliant team, you know when we're opening, and you know how absolutely perfect our facility will be. Let's talk services! We don't know of one single med spa across the entire valley that offers our exact menu, which makes us extremely happy that we can offer all of this to you (seriously we are so humbled and honored and promise to do you justice).
We will be offering full body services as well as skin health and wellness, which means not only are we offering corrective treatments, but also relaxing services like dreamy, soothing facials. Definitely check out our signature Skinfinity Facial for a medical-grade treatment great for all skin types that anyone with skin can benefit from (we hope that's you). If you haven't checked out a HydraFacial, you need to jump on it, seriously run, it's amazing! It's great for a deeper exfoliation and infuses products into your skin for brightening, anti-ageing, congestion and more. We know you'll sit up, look in the mirror and wonder how you actually just aged backwards! 
We will always be focused on new and cutting-edge treatments to serve you best, which is why we are thrilled to offer micro-needling with PRP (platelet rich plasma), body contouring and laser hair removal! The latter has come a long way and is no longer just for those with light skin and dark hair, we can do this procedure on a wide variety of candidates so be sure to ask about it! While we're in the laser talk, check out our resurfacing laser which is a non-ablative factional laser that will help with any kind of texture improvement so think anti-ageing, reduced pore size and lots more. It's also really great for skin tightening (buh-bye wrinkles and sagging skin) and can be combined with our Intense Pulsed Light (IPL) treatment which focuses on redness, sun damage, different pigments in the skin and other related issues. You'll always have the option of utilizing our acne filter too, so don't be scared to ask. We will always do a personalized, custom consultation for you prior to your treatment plan. Getting excited yet?
Drum roll please….injections! We know you came here to learn more about injections, and we promise we will dive more into the actual procedure in later blogs, but for now, let's talk about our variety of fillers. From lips, cheeks, jaw, chin, tear troughs, temples, platysma bands in the neck and everything in between, we have a filler for it. As our client, you'll have access to a more permanent filler that lasts 1-2 years and is wonderful for cheeks or more all-over body areas; be sure to ask us about it and we'll come up with a custom plan just for you.
Alright so we have your skin covered from a treatment standpoint, let's enhance it with a beautiful spray tan or set of lashes! You'll never know how much you want lashes until you get them, then we swear you'll never want to go without. Not into a full set of lash extensions? We get that too, try out our lash lift or tint, you won't believe that your own lashes can look so luxurious! Both our spray tans and lashes will be fully customizable with the latter being hand-made and selected by the lash artist! Now that's an art class we'd love to attend! Pair that with a perfect brow and you've got a good thing going on; our brow lamination, ombre brows, \ or permanent brow options will be life changing (trust us).
Lastly, nutritional counseling is a service we are more than elated to bring to the area and again, we will get more details on this incredible weight loss option soon (have you signed up to receive our blogs yet?). In the meantime, be sure to ask about our Skinny Shot or our IV Therapy which has been gaining traction as relief from a hangover, nausea, a quick pick-me-up, an energy boost or muscle recovery and it's ridiculously relaxing as well. Sign us up!
In a very small, yet very big, beautiful nutshell, we're beyond excited to be here and open our doors to you. We've waited a long time to be able to provide this service to you and it's finally here. Let's clink the bubbly and celebrate big! Skinfinity is here to stay!