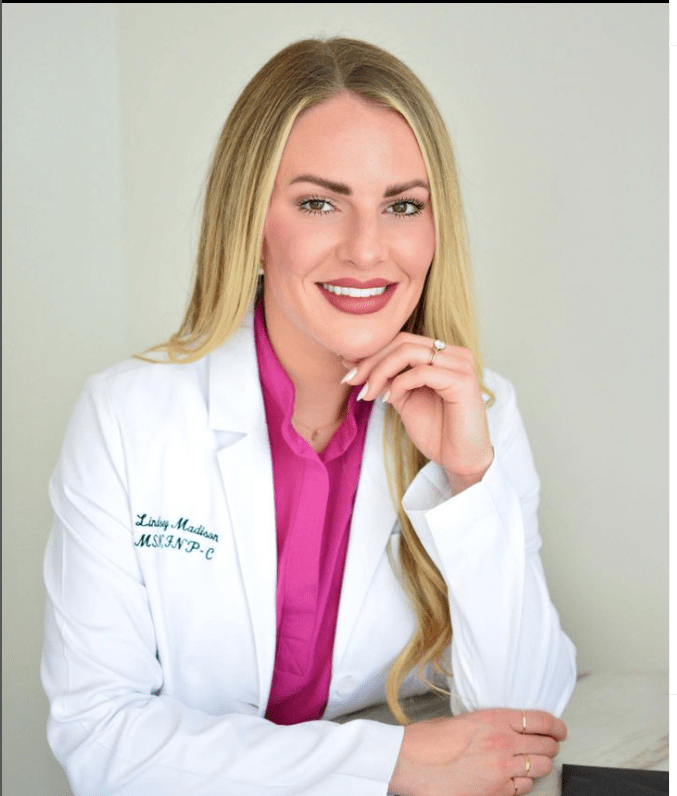 Here at Skinfinity, we get a lot of questions about injectables. How they work, do I have to use just one certain kind, what parts of my body can I use fillers on, can anyone do this? All valid questions that we're here to talk about today! 
We have such a wide range of injectable areas that we perform services on that we're super proud of; our Nurse Practitioner, Lindsey, is our injector extraordinaire and serves as our Medical Director as well. She is the best of the best and she has studied with some of the best trainers, companies (we're talking one of the best facial cranial companies there is) and professionals in the world; we're not kidding when we tell you her knowledge is out of this world. She's going to make you feel and look like a million dollars. 
We carry some of the absolute best product lines on the market for injecting such as: Juvederm, Restylane, Sculptra, and Radiesse. We like to do a combination of wrinkle relaxers along with filler to offer full face correction .(they're like our little wrinkle releasing BFF's). Lindsey has studied the different ways they work with specific facial structures down to the molecular level and knows exactly how they are formulated and how each will work for different clientele (she's a total educated injecting rockstar, in other words). Sculptra is a local favorite, and each injector must complete specific testing to be able to administer this product and as expected, Lindsey knocked it out of the park. 
She's understanding and has such an eye for the art of injecting fillers, which truly it is – you have to see your canvas and know exactly where to administer and how much to give for the best results; the techniques she uses are truly incredible. She does a great job with full-face consultations and assessing symmetries, different areas of enhancement or volume loss replacement, and is amazing with lips, temples, chin, jawlines, cheeks, neck, decolletage, hands, lips, lip lines, mid-face, tear troughs, and everything in between (literally). Everything 'in between' can range from injectables in the scalp for hair growth, the buttocks for a lift, and (mostly) everywhere you might be seeing volume loss. She's had special training for the booty and is one of the select few in the state of Arizona that can perform this treatment (have we mentioned how grateful we are to have her?). Mid-face injections really help lift and create lost volume in collagen and sometimes as we age, our lower face will get lax and filler in this area will lift everything below the cheekbone; nasal labial folds are huge when it comes to filler as well. Temples are becoming a popular area to treat and really creates a nice youthful appearance. 
Lindsey is great at treating the underside of your nose area as well, which is an area that sometimes gets pulled back and we'll start to see some puckering around the top lip. She can also treat the chin for a nicer side profile or fill in those areas where you're starting to see a loss of volume. We have a nice fat pad in our chin, but we start losing that as we age; filler will plump that back up and draw your jawline back up. The area underneath your chin can be treated as well as the neckline and your platysma bands which are the bands that run along your neckline (those shorten as we age and give us major laxity). We can also treat 'tech-neck' which is obviously arising more and more – we're always on our phones, laptops, computers, etc. and looking down constantly, so we'll see more lines and wrinkles in the neck area running all the way down to the decolletage. This is always the tall-tale sign of aging (the neck) and many times we'll see the face get treated, but not the neck, so we really focus on that here too. So many of our products will help your body restimulate collage production because it's a bio stimulator that activates with the ingredients in the fillers (we could do an entire blog post about how amazing and tested the ingredients in our products are). If you've ever caught yourself saying, "yeah but I bet it only lasts for 30 days" you'd actually be quite incorrect. Results can last up to a few years just depending on the area being treated and the product you choose, how cool is that? That's a lot of bang for your buck! Our products aren't just 'ok' either, these products will enhance your own tissue, build collagen, and promote firming in the area you choose without surgery or implants. That's what we like to call a 'win-win' with fillers.
There are so many advocacy and safety measures that go into our products, and we only promote and use products that are proven safe and beneficial to our clients. We love how this is minimal downtime, doesn't involve surgery, and is way less painful (we're not big fans of that last part). They are evolving and changing at a rapid pace and the studies going into them have been going on for years and years. We mentioned this before, but Lindsey has worked with trainers around the country, literally some of the best in the business and we're so thrilled that she is here with us and with you. 
She's going to give you an entire breakdown of what she would recommend and will make sure you leave with a beautiful treatment plan that you're excited about! Are you feeling the excitement building? Come see us for a free consultation and you'll see why Lindsey is the best in the business. Whether you're feeling nervous, excited, uneasy, or just curious about fillers, we'd be happy to chat! We have something for everyone!