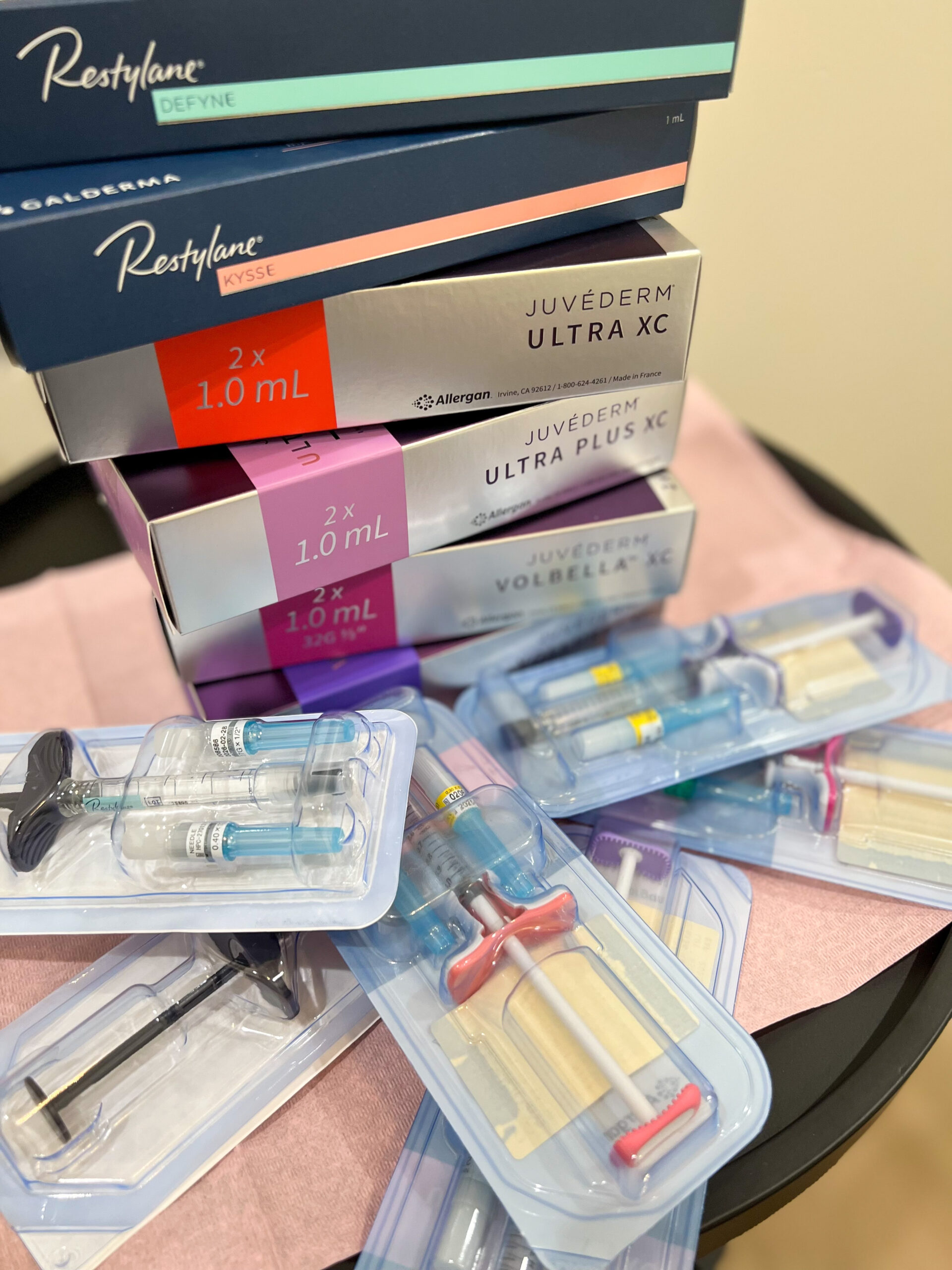 JUVÉDERM AND RESTYLANE KYSSE
Lips naturally lose volume and elasticity over time. Today, many treatments help reverse the signs of aging and restore volume to the lips. Meet our bestie, the Lip Filler. 
Lip filler is not reserved for those who want to smooth the appearance of wrinkles and restore volume loss. Many people who desire fuller and plumper lips turn to lip filler to achieve their optimal look. At Skinfinity, we use the best and most reliable products to help our patients achieve their desired look. 
What is Lip Filler?
Lip filler is part of the dermal filler family. Today, most dermal fillers contain a hyaluronic acid base. Hyaluronic acid (HA) is a naturally occurring substance in the body that is found in the eyes, skin, and joints. 
Hyaluronic acid is found in higher concentrations during wound healing, creating the migratory path for cells to travel. Not only does HA repair tissue, but it retains water at a very high volume. HA reportedly holds 1,000 times its weight in water and is commonly found in moisturizers and eyedrops. 
Hyaluronic acid-based dermal fillers are effectively used to create volume, structure, and plumpness in areas throughout the face. Let's explore two of our favorite lip filler brands, how they work, and what you can expect from lip enhancement procedures:
Juvéderm
Juvéderm became FDA-approved in 2006 and has since been a staple product at medspas across the United States. Juvéderm is a hyaluronic acid-based dermal filler that beautifully hydrates and plumps the lips. We offer the full line of Juvéderm products at Skinfinity, including five options for lip enhancements. Two of those include our popular Juvederm Ultra XC and Volbella XC options.
JUVÉDERM® Ultra XC
Juvéderm Ultra XC is a great dermal filler to consider for patients who want a little oomph to their lips. Think fullness and hydration for a pretty pout. This Juvéderm option will last one year and is optimal for those who want to restore or add volume.
JUVÉDERM® VOLBELLA® XC
Juvéderm Volbella XC is another excellent option for temporary lip filler. Like Juvéderm Ultra XC, Volbella XC is hyaluronic acid-based but administered with an ultra-fine needle to precisely target fine lines around the mouth. Volbella XC is a great option for those with more volume loss, fine lines, and wrinkles on and around the lips. Juvéderm Volbella XC will last up to one year. 
Restylane 
The options at Skinfinity don't stop there. We love our Restylane products and often recommend them for lip enhancement procedures. Why do we love Restylane as an option for lip fillers? Because Restylane products like Kysse and Silk have "crosslinked" hyaluronic acid with BDDE. We might have lost you, but this means that the product is built to last!
Restylane Kysse
Restylane Kysse is designed to move. It's pliable for longer, giving your injector more time to create your desired shape before it becomes firm. If you are looking for natural results, Kysse is for you. The perks don't stop there. Restylane Kysse has 0.3% lidocaine to decrease discomfort during application. 
Need more convincing? Look at these stats from Restylane USA:
96% of subjects agreed that their lips looked natural.2†

96% of subjects reported improved lip fullness 8 weeks after treatment.1* 

98% of subjects were satisfied with the Kysse-ability of their lips.2†

90% of partners were satisfied with the appearance of their partners' lips after treatment.2†
†In a phase IV clinical study, 59 subjects were treated with Restylane Kysse in the lips (n=19) or Restylane Kysse in the lips in combination with either Restylane Refyne (n=21) or Restylane Defyne (n=37) in the nasolabial folds or marionette lines.
*GAIS (Global Aesthetic Improvement Scale).
Restylane Silk
Last but never least, we have our friend Restylane Silk. Silk is an excellent option for older patients concerned with volume and fine lines. Administered with an ultrafine needle or blunt-tipped cannula, Restylane Silk targets the body of the lips and the perioral lines (smile lines) around the mouth. This product also contains 0.3% lidocaine for a comfortable delivery, like all of our injection products at Skinfinity. 
What do Restylane Silk users report?
98% Reported visible improvement in lip fullness 14 days after injection.*

77% Reported visible improvement in lip fullness 6 months after injection.*
*Upper and lower lip combined.
Whatever your lippy goals, we have you covered. Shannon Vail, owner at Skinfinity explains, "We have a variety of lip filler options for clients to help achieve the result they are looking for, whether it be volume, smoothing, subtle, or a little more plump!"
Eager to learn more about our dermal fillers? Ready to book an appointment? We offer free in-person and virtual consultations to discuss your goals. Book on our website or give us a call!