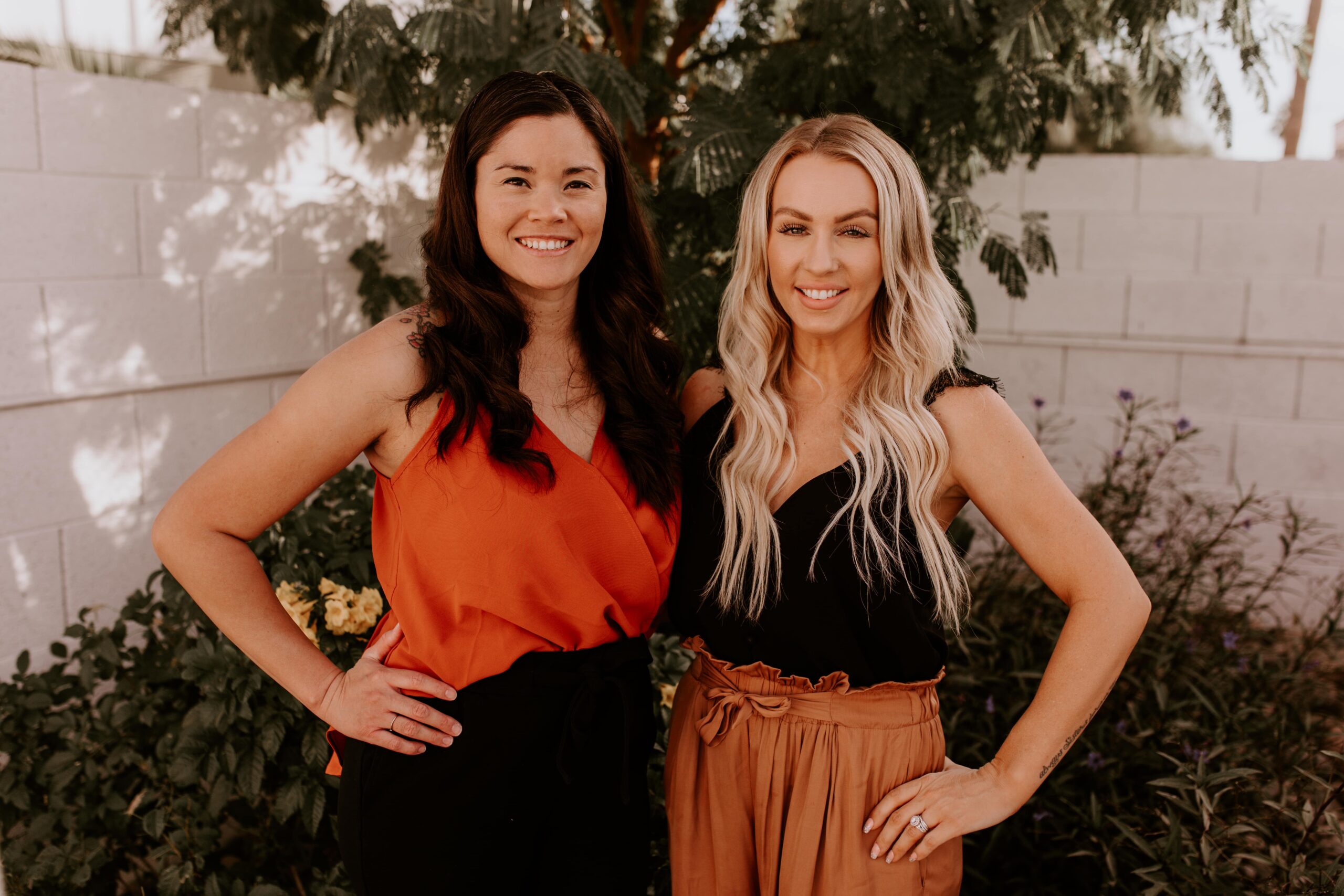 Hi guys! I'm taking over the blog this week and officially introducing myself, meet the owners of Skinfinity Medspa! I think it's so incredibly important for you to know me as a person to really establish a firm trust, and I'm all about that (trust fall anyone?). My name is Shannon Vail and I started in the aesthetic industry over ten years ago, which is crazy because it seems like just yesterday that all this vision started building in my head! I initially went to school for cosmetology and a huge interest of mine was hair and makeup; it was so interesting to me, and I thought it looked so fun – I dove in and a whole series of events led me to where I am now! 
Cosmetology school was great, and I learned a ton about the craft of hair – cutting, styling, coloring and everything in between. While there were certain aspects of it I truly loved, there were aspects I didn't love as much, like how physically taxing it was on my body (major props to all my stylist friends reading this). About halfway through school, we had a career day and that's when I was introduced to the other love of my life (besides my husband) …aesthetics. I wasn't familiar with it at all but after talking with the ladies at the booth and seeing everything laid out on the table, I immediately knew I was going into this profession, sign, sealed, delivered! I finished cosmetology school and set out for my new venture! 
Aesthetics school was amazing… insert definition of PASSION. I never wanted it to end! I remember very vividly the first week of school touring a salon spa, a med spa and a dermatology clinic that had lasers – I was instantly in love with the medical side of this industry! Injections…lasers…oh my! I was like a kid on Christmas morning and beaming from ear to ear, "this is it" I thought to myself, and boy was I right! I was fully committed to learning everything I could and soaked in every little bit of information I got at school, which was a lot, but nothing close to what you learn outside of school as well. That's one thing that I really love about my industry, you never know it all, you never can because it's always evolving at such a fast pace – there's always a new seminar to attend, new doctors to work alongside, nurses, aestheticians and quite frankly, lots of people to talk to about their trials for results! I love it all! 
Ok, so now I'm ready to take on the real world in aesthetics and somehow landed the only job opening in my town, which was at one of only two standalone med spa's! I went through a series of interviews there and I was ecstatic to have gotten the call back. The clinic was owned by a plastic surgeon, and she was amazing at injecting. I still have dreams about the way she would inject, actual perfection. They also had advanced courses we could take and would have experts fly in to do peel seminars or microdermabrasion classes or whatever it was that we wanted more direction on, how cool is that? On top of that, I learned lasers in the state of North Dakota by physicians and reps from the laser company and was flown to different states to be in on some of those physician's case trials! If you know me, you know I really geek out on learning this kind of thing, so it was a dream come true. 
Fast forward about a year and a half, and my husband and I are now moving to Arizona! For those of you wondering, YES, it was a sudden change in environment and yes it was a little shocking, but I absolutely adore Arizona! I got my laser license that was required here (they vary from state to state) and started working at a new med spa! I grew with my company pretty fast and was able to take a lead role there; I oversaw a ton of the back-end duties and did lots of training for new employees, nurses, etc. which I absolutely loved. Fast forward again and I transferred to a different med spa which was one of the largest me spas in the state of Arizona! Crazy right? These twists and turns throughout my life have all led me to this point and it still blows my mind. So now I'm working alongside the doctor who started the facility and am learning so much I could just fall over from excitement and boom! I had a vision pop into my head that my heart wouldn't let go….I want to have my own place. I knew it. The universe knew it. Everyone around me knew it. But holy scary thing….can I actually do this? 
In all the amazing places I've worked, I'd always take these mental notes on what twist I would make on things, what services I'd provide, or what I'd improve about the way something looked. I had this entire vision of my own facility in my head for so long that it was somewhat easy to get down to business. I also knew I wanted to provide an environment that values the client and their experience, but also the results and follow up. I wanted to be the best in the customer experience realm. I want my clients to feel fully taken care of and satisfied, that's important to me and our employees. 
I think true happiness comes from doing what you love – you know that quote that says, 'do what you love and never work a day in your life'? I swear it was made for me because this isn't just a job for me, it's a true passion and I hope to the heavens that you see that passion all over my face when you come to visit us here in Gilbert. This town is full of families with very giving hearts, and I can't wait to get really involved with the community, whether we're doing group outings, fundraising, hosting families for Christmas, backpack drives and everything in between, I'm all for it! 
Ok, the last, but most certainly not the least thing I want to talk to you about while I have you here on this blog, is Angelyn! She is an amazing friend that I met here in the valley and is so smart with numbers (if you're a numbers person God bless you, because I black out). Her background is in business and accounting and to be frank, I need her, she's amazing. I wanted to be expansive and serve more than one client at a time so I needed a larger space and I knew I couldn't do that on my own; I needed a perfect partner. She was it, and it happened without even looking! 
We were talking one day, and she mentioned she was looking at a career change; I'm telling you I perked up like a meerkat in danger and immediately knew what I wanted to ask her. I wrote out my business plan five years prior, so I began telling her how much vision I had for my place, and all my plans for it to be the best in the industry. I told her I'd eventually need a manager to help me with backend operations and she agreed to partner with me. I'm still smiling ear to ear knowing that I landed her, what a dream. We both share such a strong faith background, and we know this is exactly where we are supposed to be – God truly brought us together and to this place for a reason! We both share a passion of serving our community and growing as individuals in our industry – make sure to tell her hi when you see her around the office! 
I can't end this blog without taking a minute to thank the first love of my life either, my husband. He won't be in the spa setting but will help with backend operations and software. He is a great visionary and is so great at seeing potential growth or areas where we could improve; I am so thankful for him throughout this journey. 
You guys…. let's do this! Let's open Skinfinity Medspa! I can't wait to see your smiling faces and give you a little squeeze to thank you for your support. This is a dream I have envisioned for so many years and I have all of you to thank for supporting us. Ready or not, here we come!